Learn how to move your data from QuickBooks Online to QuickBooks Desktop.
Follow these steps in order to set up Internet Explorer and prepare your data. This ensures a smooth export.
Things will look different after you export your data to QuickBooks Desktop. Learn more about what data does and doesn't export from QuickBooks Online.
Step 1: Set up security settings in Internet Explorer
Set up Internet Explorer so you can import everything smoothly.
Right-click the Internet Explorer icon and select Run as administrator.
Select the Tools ⚙ icon, then Internet Options.
Select Security, then Trusted sites.
Select Sites.
In the Add this website to the zone field, enter: *.intuit.com and *.qbo.intuit.com.
Make sure Require server verification (https: ) for all sites in this zone is unchecked.
Close the Trusted Sites window.
Make sure Enable Protected Mode is unchecked.
Select Apply, then Okay.
Leave Internet Explorer open.
Step 2: Set up QuickBooks Desktop for the export
Right-click the QuickBooks Desktop icon and select Run as administrator. If QuickBooks Desktop isn't installed, you can download a trial to use for this process.
Go to File and select Close Company.
Leave QuickBooks Desktop open while you complete the rest of the steps.
Step 3: Prepare to export your QuickBooks Online data
In QuickBooks Online, go to Settings ⚙ and select Export Data.
Enter your reason for exporting and select Continue.
In the Moving to QuickBooks Desktop section, select Learn more.
In the Download company data section, select Learn more.
Select Get started.
Select Install ActiveX Control Now and follow the steps to install ActiveX. When it's finished, select Continue.
Select the data you want to export and then select Continue.
Review the limitations and select Continue.
Enter your contact info and then Continue.
You'll get an email when your data is ready to export. This usually takes a few minutes, but it may take up to 2 hours for companies with many transactions.
Step 4: Finish exporting your data
Start in QuickBooks Online. You'll need to repeat a few steps to get back to the export page.
In QuickBooks Online, go to Settings ⚙ and select Export Data.
Repeat steps 2 - 5 in "Step 3: Prepare to export your QuickBooks Online data."
On the Exporting from QuickBooks Online page, select Continue to download.
Now, switch over to QuickBooks Desktop.
In QuickBooks Desktop, make sure you're on the No Company Open screen. If you have a company open, go to File and select Close company.
Back in QuickBooks Online, select Download.
In the Save your company file window, select a location to save the file. Pick a place other than your Windows Desktop.
When the download finishes, select Convert Now.
In the Create a new QuickBooks file window, give the file a name and select a location to save it in. Pick a location on your local computer and not a network or external drive.
After the export is done, select Finished.
Important: It may take some time for this process to finish. Even if it looks like it's frozen, it doesn't mean the export has failed. Give it a few minutes and the progress bar will move again.
If the status bar doesn't appear to move
Check QuickBooks Desktop for an Application Certificate.
In your Windows Taskbar, select the QuickBooks desktop icon to open it. The Application Certificate will appear.
On the Application Certificate, choose Yes, prompt each time.
Select Continue.
In the confirmation window that follows, select Done.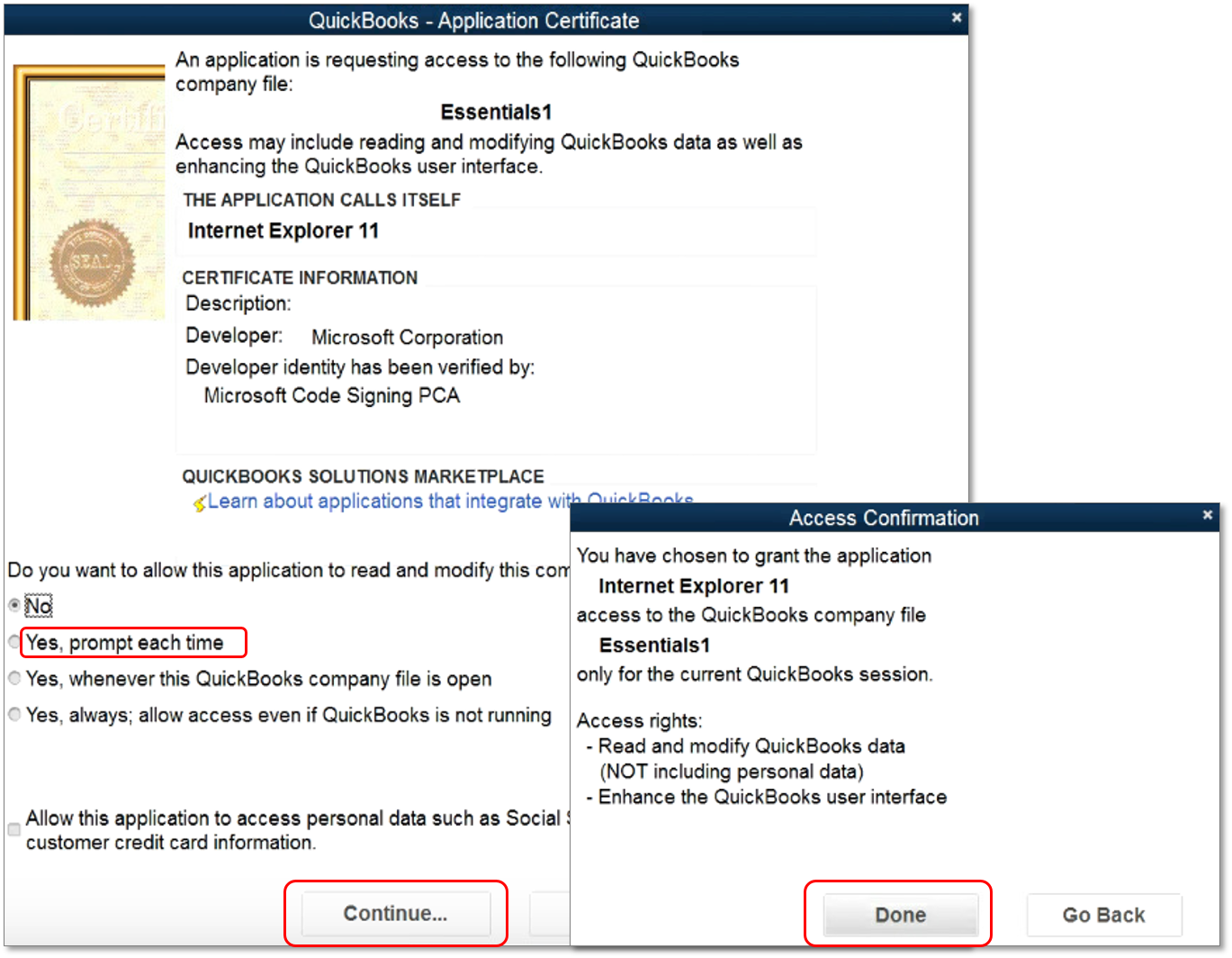 Step 5: Verify your info exported correctly
After you export your company, use the Profit and Loss report to make sure your books match. Run one in QuickBooks Online and compare it to the same report in QuickBooks Desktop.
Note: When comparing reports, run them in Accrual basis for them to match.
Step 6: (Optional) Cancel QuickBooks Online
If you no longer need QuickBooks Online, find out how to cancel your plan.