This article explains the processing timelines for QuickBooks Desktop Payroll direct deposit.
For payroll transmitted at least 2 banking days from the check date:
As long as you transmit your payroll 2 banking days prior to the paycheck date, direct deposits are made available to the receiving bank as of 5 pm PT on the paycheck date. However, if the paycheck date falls on a non-banking day, direct deposit paychecks will be posted on the next banking day. The funds are posted to the employee's account at the discretion of the receiving bank. Employees should contact their banks to learn the exact time that direct deposits are posted to their accounts.
(X) days before the Check Date
Details
2 banking days
Before 5:00 pm Pacific time:* You can transmit additional payroll data with the same Check Date* You can cancel transmitted payroll data with paychecks dated 2 banking days in advance At 5:00 pm Pacific time:All payroll data received by Intuit, with paychecks dated 2 banking days in advance, are electronically sent to ACH (Automated Clearing House) for processing.
1 banking day
Intuit will debit the employer's bank account. Debit can happen anytime within the day.
0 banking days(Check Date)
Direct deposit funds are made available to the receiving banks as of 5 pm Pacific time.

See also Direct Deposit rejected
For backdated payrolls:
If you transmit a backdated payroll (i.e., the paychecks are dated less than 2 banking days in advance), then the direct deposits will post two banking days after the payroll is transmitted.
To confirm that Intuit received your payroll transmission:
Option 1: Check the Items Received by Intuit in the Send/Receive Payroll Data window.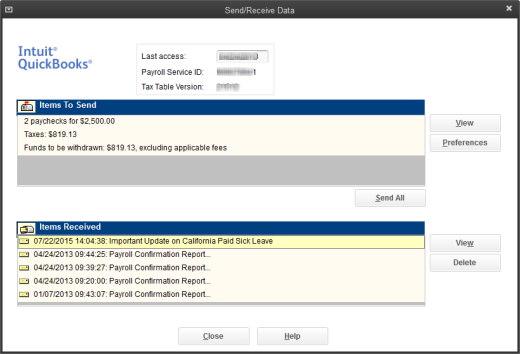 Go to the Employees menu, then select Send Payroll Data.
In the Items Received area, look for the payroll data confirmation of your payroll.

Select the appropriate confirmation of the payroll, then select

View

to see the confirmation details.
Option 2: Wait for the direct deposit email confirmation.
The QuickBooks Desktop Direct Deposit email confirmation is sent to the listed Payroll Administrator of the company shortly after transmitting payroll to Intuit.
Option 3: View the current status of your payroll in the QuickBooks Desktop Payroll Service Account Maintenance page.
Go to the Employees menu, then select My Payroll Service > Account/Billing Information.
Sign in using your Intuit Account login.
In the Direct Deposit section, select View.
Enter the direct deposit PIN, then select Continue.
You may select Print or logout.