Learn how to print receipts when you use GoPayment.
GoPayment users on an Android device can print receipts after an in-person transaction. Just connect your Android device (Release 12 or higher) to specific printers via Bluetooth to print receipts.
Use one of these Epson printers to print receipts with GoPayment
TM-m10 Bluetooth POS printer
TM-m30 Bluetooth POS printer
Print a receipt
We make it easy to print  a receipt.
When you make a sale, select Print receipt.
When you view a sales receipt from the transaction list, select Print receipt.
If Print receipt doesn't show, check your printer. Connect your printer if it isn't already.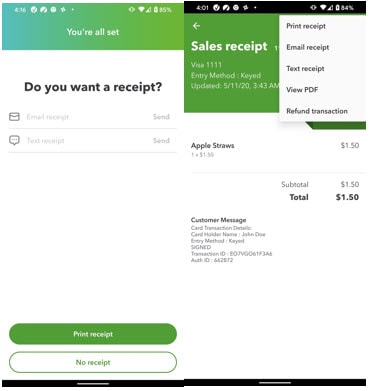 Connect a printer
Make sure your printer is on and you enable Bluetooth.
Select Settings, Receipt printers, and then Add a printer. This will scan for a Bluetooth printer.  GoPayment will detect your compatible printer and it'll appear on the screen. Select the printer you want to add.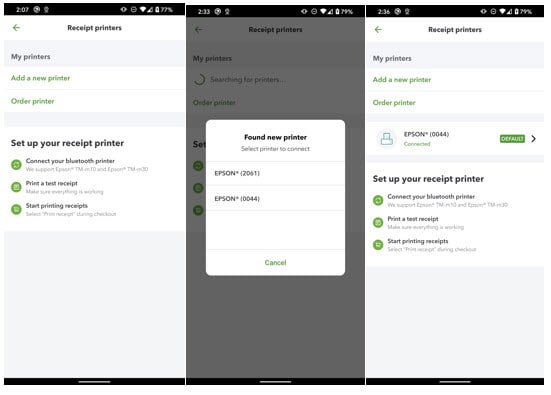 Printer won't print, status and controls
If you need any more info about your printer, we're here to help. Select Settings, Receipt printers and then select your printer.
Your printer model will determine what options you see. You may see connection status, cover status, paper level and an option to set this printer as the default.
If a printer won't print, select your printer name and the printer status. Cover status and paper level may highlight an issue.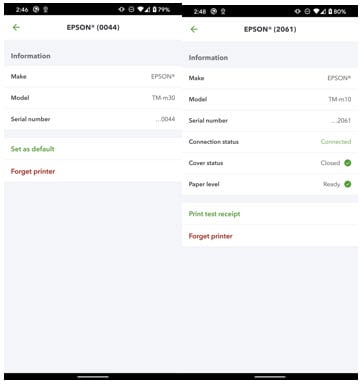 Try to switch off and on the printer.
Try to switch your Bluetooth off and on.
Try to disconnect and reconnect your printer. From here you can Forget printer.
If you still have an issue with your printer contact Epson for help.
Note: Make sure you use a compatible printer. If you don't see the option to add a printer, you might be using an unsupported product (Android 11 or older).
Order a printer
If you don't have a printer yet, don't worry. You can order a printer from your inside product. Select, Settings, Receipt printers, and then Order a printer.  You'll see a  third party online store where you can purchase a compatible receipt printer.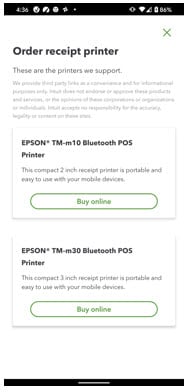 Take your business on the go with the new QuickBooks Card Reader so you never miss a sale. Its innovative design includes an LED display and contactless payments, which conveniently lets customers pay, tip, and check out without having to share your phone. Learn more