If your computer can connect to the internet outside of QuickBooks Desktop but you have difficulties updating your payroll or performing tasks, you may need to configure Internet Explorer in your computer.
Note:
Before troubleshooting, you may want to try the task on another computer to see if it is successful and verify your network (if any) is compatible with QuickBooks.
Make sure you update to the latest version of Internet Explorer, IE 11, if you are using Internet Explorer 10 or or versions older.
Verify Internet Explorer Settings:
Make Internet Explorer the default browser.
Troubleshoot in QuickBooks Desktop:
Verify your subscription is active.
Run the Quick Fix my Program from the QuickBooks Tools Hub
Step 1: Download and install the QuickBooks Tools Hub
The QuickBooks Tool Hub helps fix common errors. You'll need to close QuickBooks to use the tool hub. For the best experience, we recommend you use Tool Hub on Windows 10, 64-bit.
Close QuickBooks.
Download the most recent version (1.5.0.0) of the QuickBooks Tool Hub. Save the file somewhere you can easily find it (like your Downloads folder or your Windows desktop). Note: If you've installed Tool Hub before, you can find out which version you have. Select the Home tab. The version will be on the bottom.
Open the file you downloaded (QuickBooksToolHub.exe).
Follow the on-screen steps to install and agree to the terms and conditions.
When the install finishes, double-click the icon on your Windows desktop to open the tool hub.

Note: If you can't find the icon, do a search in Windows for QuickBooks Tool Hub and select the program.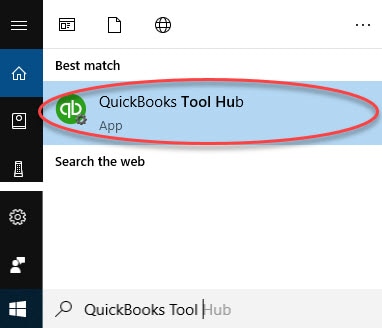 Step 2: Run the Quick Fix my Program
In the QuickBooks Tools Hub, select Program Problems.
Select Quick Fix my Program.
Start QuickBooks Desktop and open your data file.
If the above steps do not resolve your issue, you may want to:
Run QuickBooks File Doctor to auto configure your firewall, anti-virus or other third-party program settings. It can take up to one minute for the file doctor to open.
Bypass the router (plug the internet connection directly into computer).
Reset the router (by unplugging power cord, waiting a few seconds, and plugging power back in).
Related Articles