Learn how to update the built in browser after you update to QuickBooks Point of Sale 19.0 R9.
The release updates the built in browser for Payments sign in from IE 11 to Microsoft Edge. You'll need to install an update to Microsoft Edge to continue to sign in to Payments. Don't worry, we'll show you how!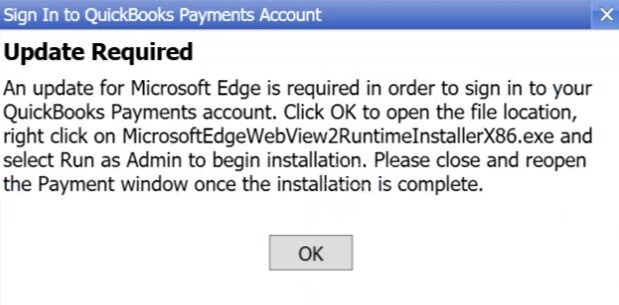 Install the Update
Use Windows + E on your keyboard to open File Explorer.
Go to C:\Program Files (x86)\Intuit\QuickBooks Desktop Point of Sale 19.0\Drivers\WebView2Runtime.
Right-click on MicrosoftEdgeWebView2RuntimeInstallerX86.exe and select Run as Admin.
Follow the on-screen prompts to install the update. The installation should take 5–10 minutes.
Now you can process payments in QuickBooks Point of Sale.
If you have any errors, uninstall the update and install it again.
Uninstall the Update
Open the Windows Control Panel.
Select Uninstall a Program.
Select Microsoft Edge WebView2Runtime, then select Uninstall.
Select Uninstall.
Follow the instructions above to re-install the browser update again.