The latest QuickBooks Online menu gives you quick access to your most important job centres like invoicing, banking, employee management, and more. We'll show you around your new menu and how you can customise it to best meet your workflows and habits.
Overview of the navigation menu
To simplify navigation for both accounting professionals and business owners, we're moving to one consolidated menu shared across Business View and Accountant View.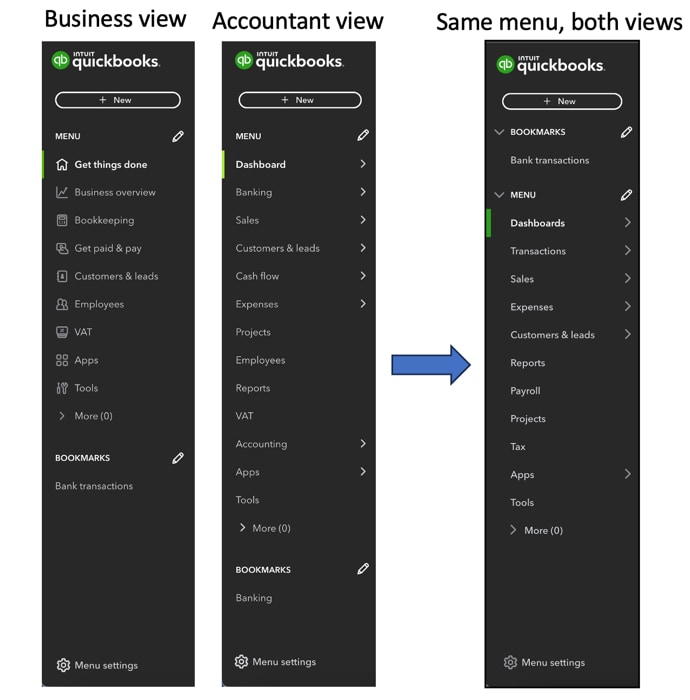 You can clean up the way your menu looks by selecting Expand
and Collapse
for the different sections of your menu.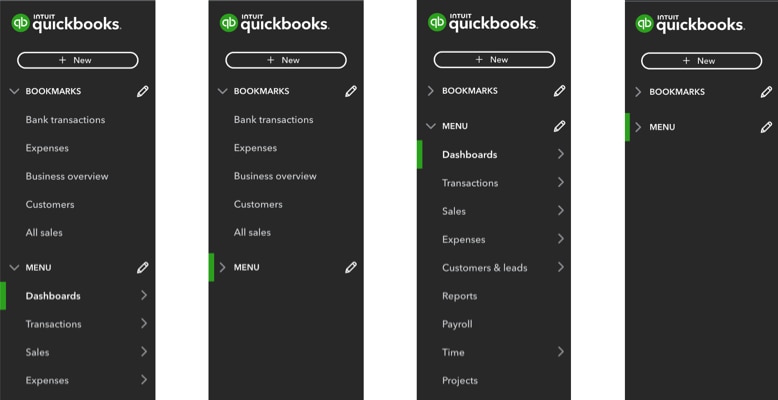 Bookmarks have moved to the top of the menu for quick access. 
Hover and flyout menu interactions continue to show all sub-menu items when you hover over the main menu item.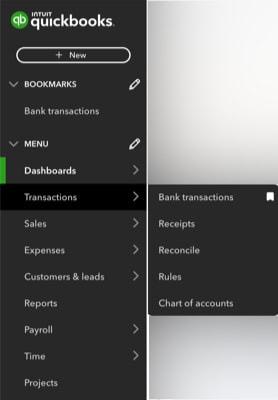 Dashboards include the Get things done productivity centre, the Business overview, and your Cash flow page.
Transactions let you import, categorise, and review bank transactions, and receipts. You can also reconcile and manage your Chart of accounts. 
Sales holds your invoicing centre and can monitor income over time.
Expenses has your expense actions like pay suppliers.
Customers & leads is where you set up and track customers and market to customers with access to Mailchimp.
Reports tell you about different aspects of your business. Some focus on sales, others focus on your spending, and some look at parts of each.
Payroll is where you manage employees and contractors.
Tax helps you set up, track, and manage your taxes. It helps to keep you tax compliant, knowing exactly what you owe and when to pay.
Apps is where you find other QuickBooks products and third-party apps.
Projects (available in Plus) is where you can track profitability from project income, expenses, labour costs, and run project-specific reports from a single dashboard.
Customise your view
You can update the navigation menu to feature the pages you use most, or hide pages you don't use, to make your menu customised to your needs.
Bookmark a page
Next to Bookmarks, select the Edit ✎.
Select which pages you want to appear under Bookmarks.
To reorder your bookmarks, select the reorder icon and drag them to your desired order.
Select Save. 
To remove a bookmark:
Next to Bookmarks, select the edit icon ✎.
Uncheck the pages you want to remove from Bookmarks.
Select Save. 
Hide or show a page
Next to Menu, select Edit Menu ✎.
Uncheck any pages you don't need, or check any you do.
Note: Any pages you uncheck can be found under More.
To reorder your menu, select the reorder icon and drag them to your desired order.
Select Save. 
If you have questions or feedback, sign in to QuickBooks, scroll down, select Menu settings, and Give feedback.