Learn how to file your taxes in QuickBooks Self-Employed.
Another year is behind us, which means it's time to get ready for taxes. We put together a to-do list for self-employed, freelancers, and independent contractors to make the prep work simpler for you. You can Download and save this PDF for easy tax prep.
Important: The normal quarterly estimated tax deadline has been extended. The Treasury recently announced tax changes and updates in response to COVID-19. This includes extending the Quarter 1 deadline for Tax Year 2020. Quarterly estimated taxes are now due on July 15, 2020. Here's the latest information on tax deadlines and updates related to COVID-19.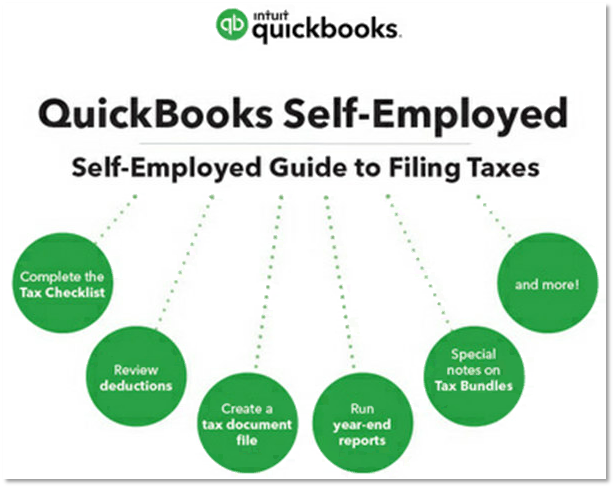 December-January to-do's
The Tax Checklist helps you prepare all of your self-employed income, expenses, and deductions for tax filling. It'll be ready for you in mid-January, but until then, here's what you can do to prep your taxes.
Complete the Tax Checklist
January-April to-do's
Create a file of all your tax documents
Collect physical tax documents, receipts, registration info, and other forms you need for tax filing.
Prepare your return as early as possible. Do as much as you can, when you can. If you file with TurboTax, you can start to file your return as you wait for your forms to arrive.
If you expect a 1099 form from a client or employer, the business has until January 31st to e-file the form. Check with your employer to ensure your contact info is up-to-date with your mailing address and email address.
Run year-end reports
Run financial reports after you categorized and reviewed your 2019 data. The most important reports of your tax file are the Tax Summary, Tax Details, Mileage, and Receipts reports.
Keep reports handy to use while you prepare your return. File them away with your tax documents in case you need them in the future. Since many tax documents are now digital, you can keep a digital file along with printed copies.
If you have an accountant who files your return, you can email them your reports:

Learn how to email a report using a web browser.
On the mobile app, select the report and enter your accountant's email address.
If your accountant uses QuickBooks Online Accountant, you can invite them to your QuickBooks Self-Employed account via Settings ⚙ .
Special notes for our Tax Bundle customers
QuickBooks tallies up the totals of your healthcare, assets, and actual vehicle expenses throughout the year. Use the Tax Summary or Tax Details reports to get these totals. TurboTax or your tax pro can use these totals as references.