Learn how to import and design custom form styles for your invoices or estimates in Quickbooks Online.
Custom form styles are available for you in QuickBooks Online. With different sample designs, you can import and then add your company info (such as company logo) to highlight your brand. This feature helps reflect your brand identity into your sales forms with less effort and time.
Design your custom form style
Learning the basics of designing your DOCX template can go a long way towards perfecting your custom form.
Import your custom form style
Ready to use your custom form style? Start creating invoices or estimates with your style now.
Get help if you encounter errors
If you get errors when uploading your form or matching fields, here's how you can fix them:
| Error code | What does it mean? | How can I fix it? |
| --- | --- | --- |
| size_validation_error | Your file is too large to upload. | Make sure your document is less than 2MB. |
| extension_format_error | The file you selected isn't of a type we support. | Try uploading a Microsoft Office 2010+ (*.docx) file |
| Error code | What does it mean? | How can I fix it? |
| --- | --- | --- |
| Fetching preview failed | An attempt to create a preview of your style failed. | Check for angle brackets applied in the wrong place or applied incorrectly. Try to reduce fields marked with brackets until Preview succeeds and then add them back in one at a time to isolate the mapping error. |
| Save Mapping failed | The selected mappings could not be saved. | Try again or contact support. |
| No Mapping found | QuickBooks couldn't find any field that required mapping. | Make sure to use angle brackets (<>) for elements on your template that should be mapped to QuickBooks fields. |
| Multiple Page Document | The document uploaded has multiple pages. | Make sure your document only has one page. |
Frequently Asked Questions
Here are answers to commonly asked questions about importing custom form styles.
Certain fields are expected to be inside tables. For example, line item info like Quantity, Product, and Price are tabular (or table fields) and should be inside tables. Make sure to map these fields inside tables in your DOCX file. Learn more about table fields in the "Make mapping hassle-free" section of this article.
Your Master form style decides how data is handled and shown in all your forms. For example, if the "Form numbers" field on your Master form is unchecked, your invoice number won't appear on your custom form styles, regardless if you added it on the invoice.
To turn on the desired settings in your Master form style:
Settings ⚙, and select Custom Form Styles.
Find the Standard template (form type is Master), then select Edit.
Customize the template as you desire, then select Save.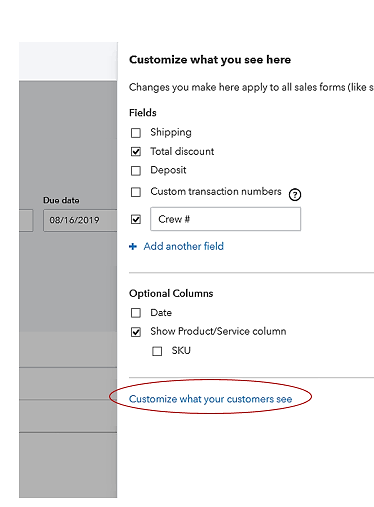 The option to customize what your customers see is available when you create an invoice.Note: You can see this option by selecting the Settings ⚙ icon (next to the question mark in a circle icon) from your invoice.
When you use the import custom form option, choosing between what you and your customers see is not possible because your Master form style decides how data will show in all your forms.