Learn how to use Projects to track project income, expenses, and profitability. This is available for QuickBooks Online Plus, Advanced, and Accountant.
The Projects feature helps you stay organized and track all the moving parts. You can add project income and expenses, tag old transactions to new projects, and run project-specific reports from a single dashboard. This makes it easy to manage your work and see your progress.
Here's how to set up Projects. Once you're set up, learn how to use the project cost and profitability tools to do "job costing."
If you're a payroll user, you can also set up Projects.
Step 1: Turn on Projects
If you haven't already, turn on the Projects feature.
Select Settings ⚙, then select Account and Settings.
Go to the Advanced tab.
Find the Projects section. Select it to expand it.
Select the Organize all job-related activity in one place box.
Select Save. Then close your settings.
The Projects menu now appears in the main navigation bar.
Step 2: Create your first project
Select the Projects menu.
Select New project.
Give your project a memorable name.
Select the customer you're working for from the drop-down menu.
Add any notes or details about the project.
Add tasks if desired.
Select Save.
You'll see your list of projects grow as your business takes on more work.
Step 3: Add project income and expenses
Now that you've created your first project, start adding income and expenses.
Adding transactions to projects won't change how they're categorized or affect your accounts. You're simply tagging them so you can track specific project income and expenses.
Open your project.
Select the Add to project button to create a brand new transaction.
Select Invoice, Receive Payment, Expense, Estimate, Purchase Order, Bill or Time.
You'll automatically tag new items to projects when you select the Add to projects button.
The Time option lets you record a single day of work by one of your workers. If you want to add weekly timesheets to a project, there are a few extra steps. Start from Step 5 of "Track income, costs, and profitability by project" to calculate your hourly time costs. Then add your timesheets.
If you use TSheets to track your employees' time, you can import time tracked directly into the weekly timesheets.
Working from an estimate?

Add estimates to projects before converting them to invoices for your customer.

You can also use progress invoicing to create multiple invoices from a single estimate. That way, instead of asking for full payment at the beginning, you can invoice for partial payments throughout the project. This is a good option if you're charging customers for a fixed fee.
Step 4: Add existing expenses and timesheets
You can also tag expenses and timesheets (billable or nonbillable) you've created outside of the Projects menu.
Add existing expenses to projects:
Go to the Expenses tab.
Find and open the transaction.
Select the project from the Customer/Project drop-down menu. Do this for each expense item you want to tag. This isn't the same as the payee for the expense.
Select Save and Close.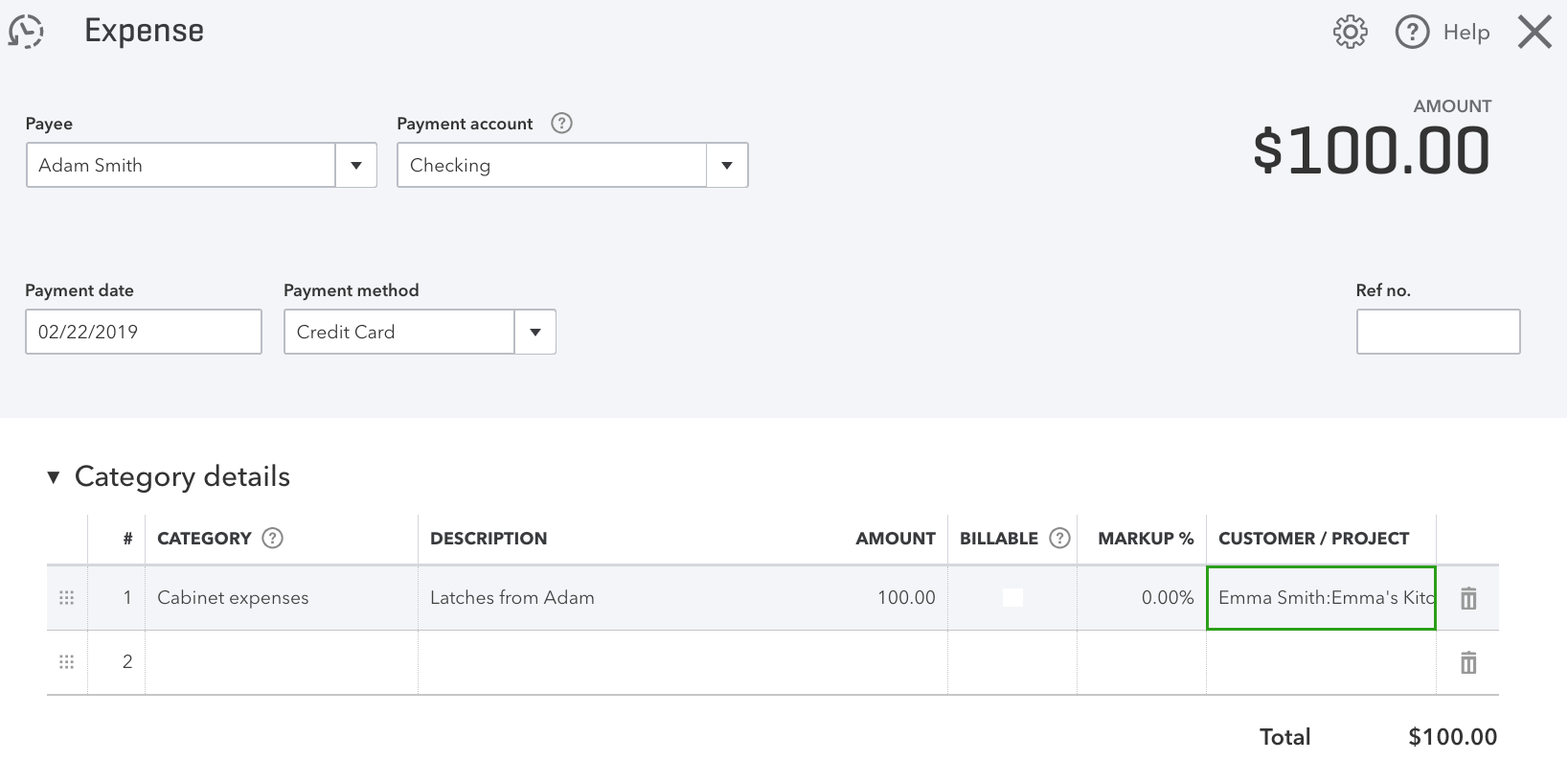 Add existing timesheets (billable or nonbillable):
Go to the Sales tab.
Select the Type column to sort the list.
Find and open the timesheet.
Select the project from the Choose a customer or project drop-down menu. Do this for each employee's time you want to tag.
Select Save and Close.
Step 5: Add existing invoices and estimates
You can easily create new invoices for a project, but take extra care adding existing invoices.
The best time to add existing invoices to projects is before they're paid. If you add a paid invoice to a project, the invoice will disconnect from the attached payment. This will also change the invoice's status to unpaid. You'll need to follow the steps to reconnect the payment to avoid accidentally charging customers twice.
We don't recommend adding invoices linked to more than one other transaction, billable expense, or timesheet. If you add a linked invoice to a project, only the invoice is added. You'll need to add the linked transactions to the project and reconnect them to the invoice.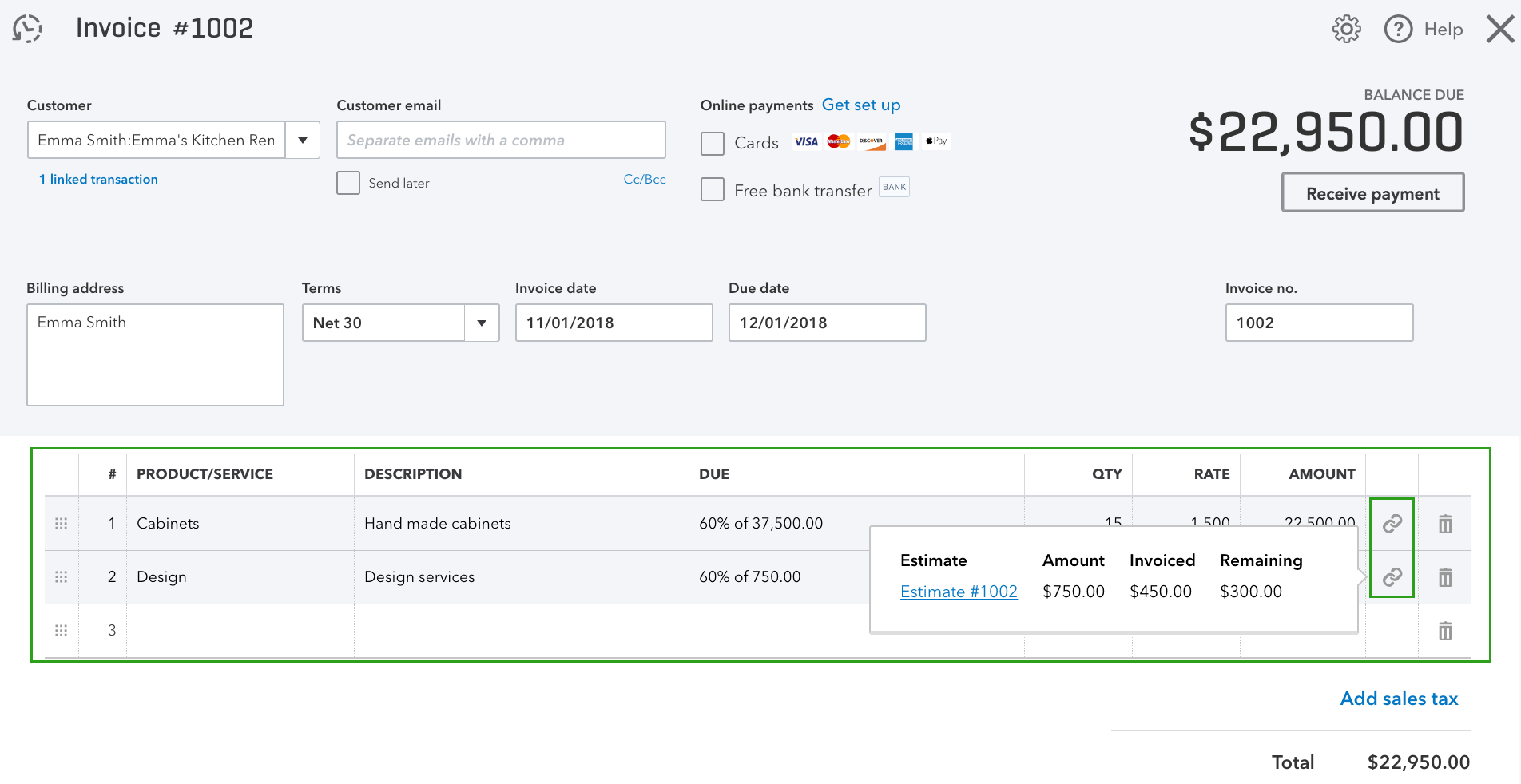 You can add existing estimates to projects as long as you haven't converted them to invoices.
Step 6: Track profitability
You'll see important cost and profitability info ("job costing") on each project page.
How to turn off Projects
You need to be the Master Administrator to turn off the Projects feature.
Select Settings ⚙, then Account and Settings.
Select Advanced from the left menu, then look for Projects.
Select Projects, then uncheck the box.
Select Save, then Done.