Learn how to use and customize form templates in QuickBooks Desktop.
Form templates can be customized to match your business. You can create custom templates for forms like invoices, sales receipts, estimates, statements, and purchase orders.
You can customize these templates to control how they look and what information to include. QuickBooks Desktop. also has a mailing envelope template you can customize. If you're using QuickBooks Desktop for Mac, here's how to customize form templates .
To access the form templates list:
Go to the

QuickBooks Lists

menu and select

Templates

.
Double-click the template you'd like to edit.

Select the

Formatting

tab, then select

Manage Templates

.
Here's what you can customize on the form: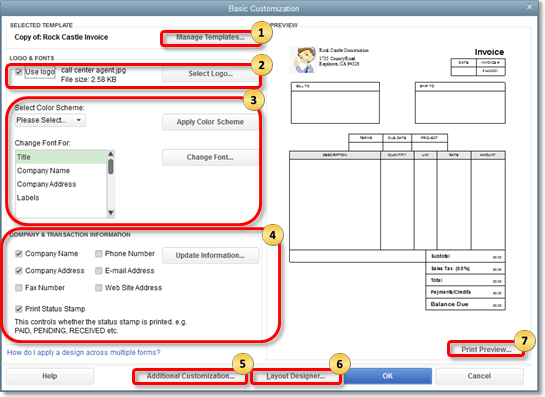 Manage Templates

: When you select this button, you'll get to the screen where you can view the list of templates for a specific form. Here you can Copy, Delete or Download Templates. If you need to rename your template so you can easily distinguish and use it, you can also do that task on this window.

Add your logo

: Select the

Use logo

checkbox if you want your company logo to appear on your invoices and other forms. If you haven't previously used a logo, a window opens where you can select a logo. If you've been using a logo and want to change it, choose the

Select Logo

button to select the image you want to use. For best results, use a logo image that is square. Your logo image will be reduced and sized to fit in a square space. You also need to use the .jpg format instead of formats that have transparent background (.gif, .png, .tif). This prevents the pixelated logo. If you've issues with the logo after saving it as PDF,

here's what to do

.

Change fonts and colors

: This section lets you personalize fonts and colors for certain details (Company Name, Labels, Data, etc.) used in the form.

Company & Transaction Information

: Here you can select the contact information you want to appear on the invoice. You can also change any of this information by selecting

Update Information

. When you add information, you need to select

Layout Designer

to move the information where you want it displayed.

Additional Customization

: Select this option to remove/add information on the header, columns, and footer of the form as they appear on your screen and the printed copy. Select the

Screen

checkbox if you want to see the field on your computer screen while filling out the form in QuickBooks and select the

Print

checkbox if you want the field to appear on the printed form. Note that you can assign a unique title for each header, column or footer. You can also set printing options (Print orientation, etc…) by going to the

Print

tab.

Layout Designer

: You need to go to the Layout designer especially if you opt to add or remove header/columns from the template. Layout designer lets you move and resize items and information on your template.

Print Preview

: This will show you a quick preview of the template and the changes you've made so far. When you choose the

Print Preview

button, you'll see how your form will look like once printed.
This option lets you apply the design and format of a customized template (example: Invoice) to another template type (example: Packing slip).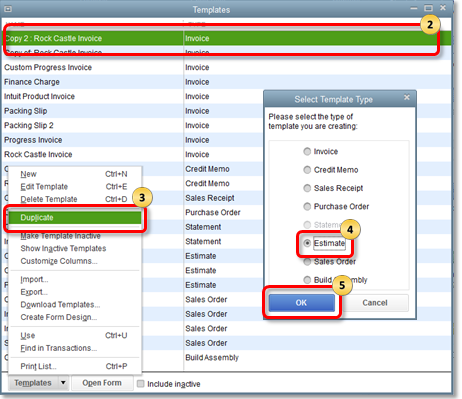 From the

Lists

menu, select

Templates

.

In the

Templates

list, select the template you want to copy.

Select the

Templates

▼ dropdown, then

Duplicate

.

Select the type of form you want this template copy to be used for.

Select

OK

.
You can now use the copy of the template with the type of form you choose.
You can copy customized templates from one company file to another. This saves your time in personalizing templates for your estimates, invoices and other forms in case you have multiple company files or you need to start a new company in QuickBooks Desktop.
A few limitations to keep in mind:
You can't import customized templates created in newer versions of QuickBooks into older versions.

You can't import templates created in one regional version of QuickBooks into another. For example, the Canadian version of QuickBooks can't export templates to the U.S. version.
How to import templates:
Open the company file that you want to import the template into.

From the

Lists

menu, select

Templates

.

Select the

Templates

▼ drop-down list, select

Import

.

Select the template you want to import, then select

Open

.

Name the imported template. You can keep the original name or change it.

Select

OK

. You should now see the imported template on the template list.
How to export templates:
From the

Lists

menu, select

Templates

.

Select the template you want to export.

Select the

Templates

▼ dropdown, then

Export

.

Verify the file name and choose the location of the file on your computer.

Select

Save

.
If you encounter issues, here's how to troubleshoot common issues when using and customizing templates .