Learn how to move your data from QuickBooks Online to QuickBooks Desktop for Windows.
Things will look different after you export your data to QuickBooks Desktop. Get more info about what data does and doesn't export from QuickBooks Online.
Here's a quick video that gives an overview of the process.
Step 1: Download QuickBooks Desktop
If you haven't already, download and install QuickBooks Desktop on your computer.
Open QuickBooks Desktop.
Go to File and select Close Company. Leave QuickBooks Desktop open while you complete the rest of the steps.
Note: You can only move data from QuickBooks Desktop for Windows. Once you move it to Windows, you can convert to QuickBooks for Mac.
Step 2: Sign in to QuickBooks Online and download the migration tool
Sign in to the QuickBooks Online account you want to convert with a browser we support.  Use your Intuit Account credentials.

Select the URL and replace anything after

/app/

with

exportqbodatatoqbdt.  The 

URL should say 

https://app.qbo.intuit.com/app/exportqbodatatoqbdt

.

 Then select 

Enter

on your keyboard.  Other support task links won't work during this process.

You'll see Export Overview.  Read the Export Overview. You can print out it if you'd like. Select Get Started.
Select Download tool to download the QuickBooks Desktop migration tool.
Once you download the tool, launch the tool to install it and select Next.
Accept the terms in the license agreement and select Next.
Select Complete as the type of setup, then Next.
Select Install, then Finish.
Step 3: Prepare file for export and select your data in QuickBooks Online for export
Go back to QuickBooks Online. You should still be on the Step 1: Prepare to export window. Select Continue.
Choose what data you want to export. You can export all data with transactions or just list and balances.  Select Continue.
Select Learn about the limitations of converting data for QuickBooks Desktop to learn about limitations that can impact your migration and select Continue.
Enter the Name and email address you want the migration confirmation email sent to and select Continue.
Select Close to go back to your QBO file. Wait for your email confirmation. The email may take some time.  It depends on the amount of data you migrate.
You'll need to get back to the export screen in QuickBooks Online. Repeat the previous steps in Step 2 to get back to the export page and then select Get Started.
On the Prepare to export page, select Continue.
On the Select your data page, select the same option you selected previously and select Continue.
On the Exporting from QuickBooks Online page, you'll have a message that says you already have a file to download. Select Continue to Download.
 Select Download QBXML file. If QuickBooks prompts you to save the file, choose a location easy to find, like your desktop and select Continue.
In QuickBooks Desktop, make sure you're on the No Company Open screen. If you have a company open, go to File and select Close company.  View your reports to compare your data before and after the export.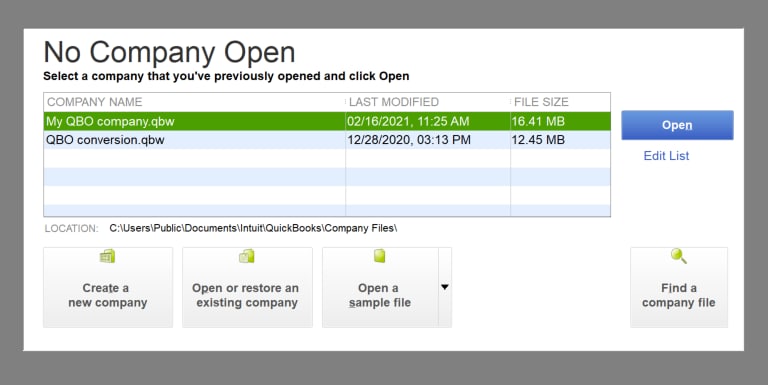 Step 4: Run the QuickBooks Desktop migration tool
Make sure QuickBooks Desktop is open at the No Company Open screen.
Open the QuickBooks Desktop migration tool app you downloaded from step 2.
Enter (or Browse to) the path to the downloaded QBXML file and select Import.

Choose a location and name for your new QuickBooks Desktop file.

Look for the QuickBooks - Application Certificate.  It may be hidden behind other screens if QuickBooks Desktop is in the background. Select the read/modify rights and if you want to allow personal data access. Select Continue and Done on the confirmation screen.
Select Done once your data has been imported successfully.
Important: It may take some time for this process to finish. Even if it looks like it's frozen, it doesn't mean the export has failed. Give it a few minutes and the progress bar will move again.
If the status bar doesn't appear to move
Check QuickBooks Desktop for an Application Certificate again.
In your Windows Taskbar, select the QuickBooks desktop icon to open it. The Application Certificate will appear.
In the Application Certificate, select Yes, prompt each time. T
Select Continue and Done on the confirmation screen.
Step 5: Verify your info exported correctly
After you export your company, use the Profit and Loss report to make sure your books match. Run one in QuickBooks Online and compare it to the same report in QuickBooks Desktop.
Note: When comparing reports, run them on Accrual basis for them to match.
Step 6: (Optional) Cancel QuickBooks Online
If you no longer need QuickBooks Online, find out how to cancel your plan.