Learn how to create paychecks in QuickBooks Desktop Payroll.
Do you need to create a paycheck in Desktop Payroll? We show you how.
There are three types of paychecks in QuickBooks Desktop Payroll: unscheduled, scheduled, or termination paychecks. Before creating or running paychecks for your employees, look over the following checklist.
Scheduled payroll
If you pay your employees on a regular schedule such as weekly, biweekly, monthly, etc. we recommend using scheduled payroll. This also allows for grouping if some of your employees are paid on a different schedule. Make sure that the payroll schedule dates are correct before running scheduled payroll. To learn more about setting up a scheduled payroll, see Set up, update, or delete payroll schedules
If you are a Direct Deposit or QuickBooks Desktop Payroll Assisted customer, the Process Payroll On date is adjusted to include transmit lead times and federal holidays.
Unscheduled payroll
We recommend you use this option if you don't pay your employees regularly. Or if you pay them an off-cycle paycheck, bonus paycheck or commission paycheck that isn't integrated with their normal payroll.
Termination check
Use this option to pay a released/terminated employee's last paycheck. This process assists you in creating a final paycheck, entering the employee's release date and marking them inactive (optional).
For Assisted Payroll, use the termination paycheck option to create a final paycheck for the same day without getting a late fee.
Create paychecks in QuickBooks Desktop Payroll
Step 1: Choose the type of payroll check you need to create
Select Employees, then Pay Employees, and select from the check types Scheduled, Unscheduled, or Terminated checks.

Scheduled Payroll: QuickBooks Desktop will take you to the Payroll Center and Pay Employees tab. From the Create Paychecks section, select the appropriate schedule. Select Start Schedule Payroll. QuickBooks Desktop will open up the Enter Payroll Information window.
Unscheduled Payroll: QuickBooks Desktop will take you directly to Enter Payroll Information window.
Termination Check: QuickBooks Desktop will open up the Enter Payroll Information window. (See Termination paycheck or Processing a late payroll for steps to run or create a termination paycheck.)

Verify the Pay Period Ends date, Check Date and Bank Account the monies are drawn from.
Step 2: Choose the Printing option that applies to you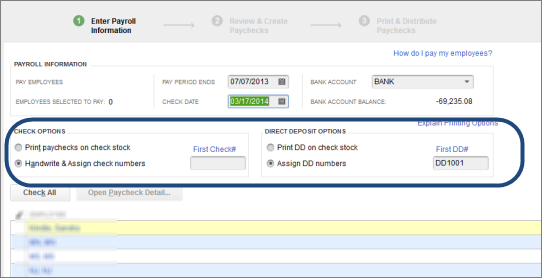 Check Options
Select Print paychecks on check stock to queue paychecks for printing from QuickBooks Desktop.
Select Handwrite & assign check numbers if you're writing your paychecks by hand outside of QuickBooks Desktop. Enter a First Check#. When you enter a check number, the number will increase by 1 for each subsequent check written from the account specified in the Bank Account field.
Direct Deposit Options
Select Print DD on check stock to queue direct deposit advice of deposits for printing from QuickBooks Desktop.
Select Assign DD numbers to prevent direct deposits from being placed in the check-printing queue. You can still print pay stubs for your direct deposits. You can also indicate an alphanumeric number (for example, DD) up to 11 characters, which will be incremented and printed on direct deposit pay stubs.
Select the name of employee(s) you want to pay.
To edit employee paycheck information for one paycheck only, select the employee's name to access the Paycheck Details.

You can do this to add payroll items temporarily or to modify amounts before creating the paycheck, too.

If the employee uses Direct Deposit, verify that the Use Direct Deposit box is selected.

If you don't want vacation and sick to accrue on this specific paycheck, select the box Do Not Accrue Sick/Vac. Enter or verify the employee's amounts in the appropriate columns

Select Save & Next to go to the next employee, or select Save & Close to go back to the Enter Payroll Information window.
When the checks are ready to be created, select Continue.
From the Review and Create Paychecks window, review the Check/Direct Deposit printing options.
Verify the amounts for each employee, and select Create Paychecks.
Print the paychecks or pay stubs now or later if desired. See How to print paychecks and Print pay stubs for detailed steps.
If you have QuickBooks Desktop Payroll Assisted or direct deposit paychecks, send your payroll information and direct deposit paychecks to Intuit.
You must do this before
5:00 PM PT
2 banking days
prior to the check date. This allows enough time for the processing of direct deposit funds as well as tax payments on your behalf.
Paycheck date vs Pay period dates
There is an important distinction between paycheck date and pay period dates.
Paycheck date
The date on which employees are paid, i.e., checks are distributed (pay day). The paycheck date is used to determine when payroll liabilities are due, based on deposit schedules.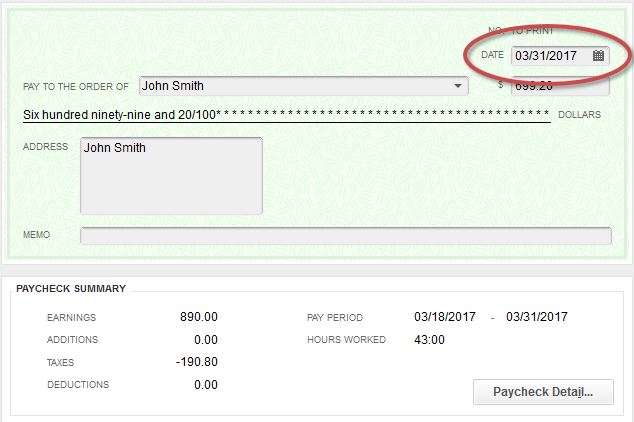 Pay period dates
The pay period begin and end dates represent the period in which employees worked on earned wages.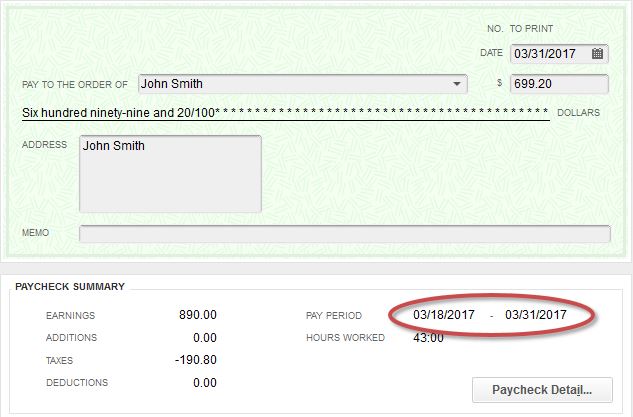 When an employee works in December, but is paid in January
Because IRS rules are based on when wages are paid (not earned), any wages paid in January, regardless of the pay period, will be included in the new year's wages for tax deposit and reporting purposes (including annual W-2 Forms).
If pay period dates have been entered incorrectly
Because pay period dates do not affect the timing of the tax deposit due dates or payroll tax reporting, it is not necessary to correct these dates for tax purposes once checks have been distributed.