Learn more about steps you should take after you move your QuickBooks Desktop file to QuickBooks Online to make sure your data is ready to go.
Make sure you keep track of your books in QuickBooks Desktop and QuickBooks Online until you are sure QuickBooks Online is right for your business.
Step 1: Compare your financial reports
Compare these reports in QuickBooks Online and QuickBooks Desktop to make sure your data copied successfully:
Profit and Loss standard
Balance Sheet standard
When you run your reports, make sure:
The date is set to All Dates in both products.
Your accounting method is set to accrual.
To check the balance of each of your Accounts Receivable (A/R) and Undeposited Funds accounts.
Learn what doesn't come over from QuickBooks Desktop to Online.
Report discrepancies you can expect:
Cash basis — QuickBooks Desktop and QuickBooks Online don't track transactions as paid the same way. Reports may not match using cash basis.
Inventory — Reports might not match because QuickBooks Online and QuickBooks Desktop calculate inventory differently.
Multi-currency — Transactions with 3 different types of currencies don't convert to QuickBooks Online.
Step 2: Review your accounts' detail types
When you move your data to QuickBooks Online, the process assigns detail types to accounts. Example, Undeposited Funds.  However, for most accounts it's not clear what the detail type should be. QuickBooks Online assigns a generic detail type, such as Other Miscellaneous Income to these accounts. You can change this later.
Here is how you can use the Account List report to review and edit the detail types of your accounts.
Go to Business overview then select Reports (Take me there), or go to Reports (Take me there).
Search for and open the Account List report.
Review your accounts.
To edit an account's detail type, select the account name.
From the Detail Type field, choose the correct detail type.
Select Save and Close.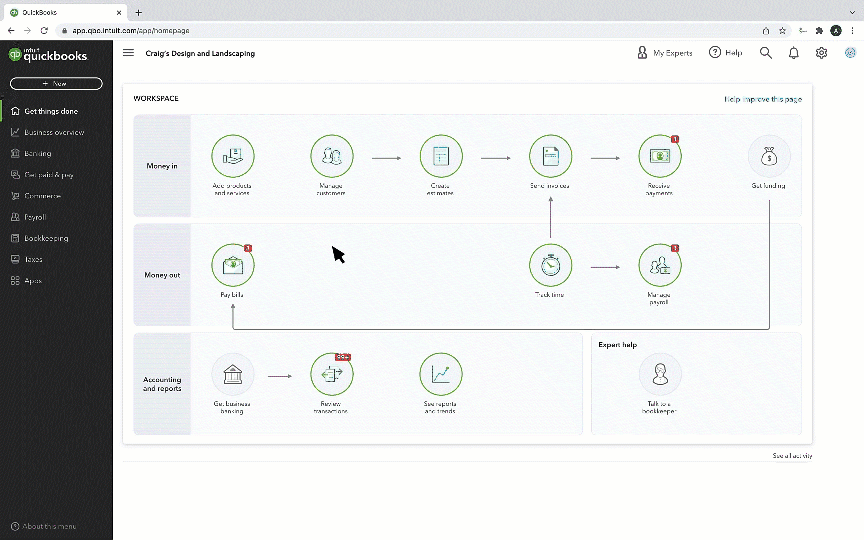 Step 3: Complete your Payroll setup
Check out this guide to set up and run your payroll in QuickBooks Online. Note: To view the guide, you'll need to sign in to QuickBooks Online. You may need to select the link twice.
You can also watch this webinar:
To watch more how-to videos, visit our video section.
Step 4: Link your existing Payments account
If you have an active GoPayments account, you don't need to sign up for a new one for QuickBooks Online. You can unlink your existing account from your Desktop company, then link it to QuickBooks Online company.
Step 5: Get to know FIFO (if you imported inventory)
You can learn more about how QuickBooks Online uses FIFO (first-in-first-out) to calculate inventory.
What does this mean for my business?
You'll need to file Form 3115 with the IRS to notify them you made this change in accounting. Use the as of/effective date that you entered while importing. Learn about this form and inventory in QuickBooks.